The NorMIC series of workshops aims to teach biological researchers (PhD students, engineers, postdocs and young PIs) the principles of biological microscopes and image processing.
Time and place: May 9, 2023–May 12, 2023,  Institute of Biosciences, University of Oslo (Add to calendar)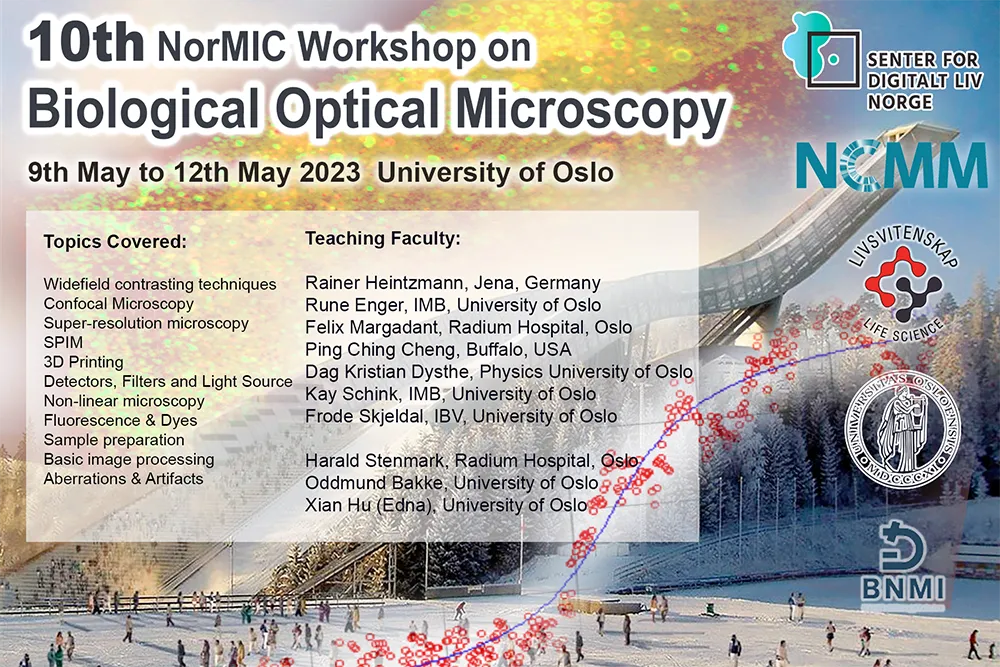 Registration is now open.
Registration fee: 3000 NOK (includes lunch, coffee breaks and one social dinner)
Schedule
The workshop consist of 4 days from 9th of May to 12th of May (Tuesday to Friday), starting from 8:30am to 4pm each day. Lunch, tea breaks and one social dinner is included. Mornings are lectures (open to public) and afternoons are hands on labs (registrants only).
Schedule will be open shortly.
Example of last years schedule can be viewed here.
Scope of Teaching and Hands On Session
The scope of the workshop includes the theory of microscopic image formation, difference between different imaging modalities (different wide field contrasting methods, super resolutions, non linear, light sheet, etc.), principles of fluorescence and probes, detectors and filters, introduction of image processing.
Registrants will practice hands on operation of different high end microscopes: the LSM880, Olympus SpinSR, Abberrior STED, 3D Printing, and Chip based TIRF.
Topics covered:
Widefield contrasting techniques
Confocal microscopy
Super-resolution microscopy
SPIM
3D Printing
Detectors, filters and light source
Non-linear microscopy
Fluorescence and dyes
Sample preparation
Basic image processing
Aberrations and artifacts
Teaching staff
Rainer Heintzmann, the co-inventor of Structured Illumination Microscopy (SIM) and Instant Structured Illumination Microscopy (iSIM). Rainer will demonstrate the powerful free deconvolution software developed in his lab.
Rune Enger, head of Letten Centre (2p microscopy imaging platform). Rune will share his experience of setting up live animal imaging experiment with 2 photo microscope.
Felix Margadant, a member of the Harald Stenmark group. Felix has devised several cellular force measurement tools. A software suite used in his UiO collaboration is known as PillarTracker.
PC Cheng, Professor at the Department of Electrical Engineering, State University of New York in Buffalo, USA and famous plant biologist. Specialist in confocal microscopy, biomedical imaging, x-ray microscopy, microtomography, and lithography. PC Cheng and Felix Margadant are contributing authors to the book 'Handbook of Biological Confocal Microscopy' available here.
Stig Ove Bøe, Group Leader and Microscope Platform Leader from Rikshospitalet. Stig Ove will share with us his work on High Content Screen System.
Kay Schink, Associate Professor of IMB, UiO, Norway. Kay has extensive experience in various optical microscope techniques.
Frode Skjeldal, Imaging Specialist working for NorMIC Imaging Platform. Frode has accumulated extensive experience of various types of cellular and tissue imaging. He is also an expert of various imaging processing softwares especially Imaris.
Ingrid Kjos, Researcher from Radium Hospital. Ingrid has been working with the EM shared core facility in Radium for the past 3 years, she is specialized in cryoEM techniques and will cover the topics of CLEM for our course.
Merete Storflor, UiT PhD Candidate and application specialist of Chip NanoImaging. Chip NanoImaging is a scientist initiated starup from UiT that is specialized in Single Molecule Localization Microscopy and TIRF on a chip microscope.
Rafael Camacho, Imaging Scientist at University of Gothenburg. Rafael is a very active imaging processing specialist in Europe. He usually teaches ImageJ in our workshops and is well-loved by our previous students.
Dominik Frei, Product specialist from Inter Instrument. Dominik will bring one demo instrument for the workshop (to be announced).
Øystein Ivar Helle, CTO of ChipNanoImaging. Øystein will bring a chip-based TIRF microscope system to the workshop.
Simen Gylterud Owe, Microscopy Manager of Ortomedics AS. Simen is heading the microscopy devision of Ortomedics AS. Ortomedics AS is the sole distributor of Leica in Norway.
Jan Vavra, Territory Manager at Abberior Instruments GmbH. Jan will bring an Abberior STED to the workshop.
Supporting staff
Oddmund Bakke
Linda Haugen
Larissa Lily
Nikoline L. Rasmussen
Harold Gutch
Organizing committee
Felix Margadant
Kay Schink
Frode Skjedal
Harald Stenmark
Oddmund Bakke
Organizing institutions
Financial support
This workshop receives financial support from Digital Life Norway, UiO:Life Sciences and BNMI (NordForsk Research Infrastructure Hubs).